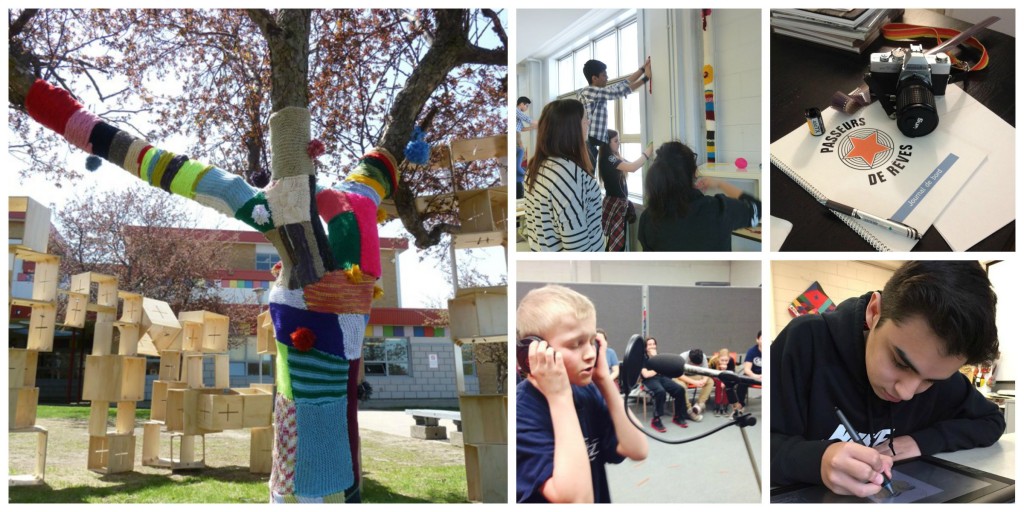 A cultural mentorship project
To encourage and help young people stay in school, Culture pour tous set up the Passeurs de rêves cultural mentorship program.
During mentor-mentee meetings held in the locations where the mentors carry out their creative work, the mentors encourage young people who are lacking motivation or at risk of dropping out of school to continue with their schooling. In group workshops held in schools, professional artists hold themebased activities during school hours, such as singing, storytelling, dance, mosaicmaking, slam poetry, object theatre, and patchwork graffiti artwork.
The professional artists and cultural workers involved share some of their knowledge and a lot of their passion for what they do with the students, who are invited to spend a few hours in close proximity to learn the basic elements of an occupation that sparks their interest. Through their passion and commitment, the mentors provide students with a model of perseverance as well as a positive and creative vision for the future. At the end of the mentorships, the mentors find that they too have changed.
Project Presentation (in French)
Passeurs de rêves is a rewarding experience for both mentees and mentors! Feel free to contact us, if you have a lot of ideas and would like to get involved in the program.
---
Testimonials

"Daniel really has a lot of talent. I didn't show him how to draw; I simply introduced him to new media (China ink, Pantone markers and Wacom tablets) and showed him the relationship between light and shadow. He will have quite a lovely portfolio."

Beaudet, caricaturist and mentor

"Yesterday, Maxime was the boss! He operated the timer and handled the photographic paper on his own. He was methodical and worked with sensitivity and thoroughness. This teenager has a natural eye for framing a picture [. . .] He has found an interest that will develop into a passion.

[. . .] To see a small flame light up in a teenager's eyes when he understands, takes over and works with an artistic medium is magical and rewarding."

Marie-Claude Plasse, photographer and mentor

"Several of our students have had harsh experiences and many setbacks that have lowered their selfesteem. Their participation in La Fabrique à chansons was a wonderful springboard for them, a way to highlight their talent. In the songwriting workshop, they wrote lyrics, chose musical styles, and sang their songs. Obstacles were overcome and you could see their pride in their faces. Beyond all expectations, even the most withdrawn students broke out of their shells and dared to give it a try."

Anne-Marie Binet, teacher, Polyvalente Le Carrefour
#PasseursDeRêves